To store your textiles, you hang them on these textile frames. The suspension tubes are broad and carefully varnished so that the textiles can be stored safely with no risk of damage. Easy access thanks to the smoothly-running sliding mechanism. Available in every possible RAL colour. Suitable for all Magista cabinet systems. Non-standard sizes also possible.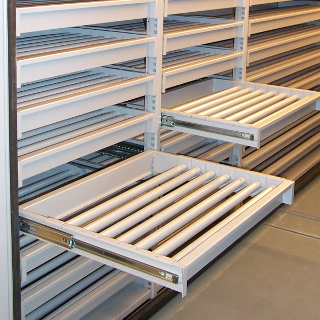 Hallmark – ISO and EU

We aim for a high level of operational management, production and quality control. The safety conditions in our production factories have been thoroughly inspected and comply with all the relevant European guidelines and directives. Where applicable, all of our products have the well-known European CE marking for overall safety. And last but not least, our quality control procedure is certified according to the international ISO 9001 standards. Every year, our ISO certification is reconfirmed by an independent controlling body. All in all, these standards and certificates assure you that Magista's products and services meet the highest standards.

Hallmark – Products

All of Magista's cabinets, shelving systems and all other products comply with various hallmarks in the Netherlands and Germany. Those hallmarks officially confirm the quality, safety and sustainability of the Magista products. To obtain these hallmarks, the products must pass a number of tests. During these tests, which are implemented by independent inspection bodies, it is checked whether the products comply with the applicable requirements related to bearing capacity, safety, finishing and many other aspects. Magista itself also continuously tests its own products. For example, we subject all our storage systems for museums and depositories to the so-called ODDY-test.