A mezzanine is a 'floor on stilts' that we install at your business location. A mezzanine has no lasting impact on the building in which the floor is installed. Installing a mezzanine is probably the fastest way of increasing the floor space at your business location. You can use the extra floor space for storage, but also as extra working space.
The advantages of mezzanines
Mezzanines are a great alternative to a full-scale renovation. Moreover, a mezzanine is usually much cheaper than a renovation. But mezzanines have even more advantages.
They enable you to quickly adapt to new developments. For example, a mezzanine can easily be expanded, if necessary. Do you no longer need the extra floor space? Then you can easily dismantle the mezzanine and install it somewhere else.
Efficient use of space
With a mezzanine, you make full use of the height of your business premises. It is even possible to create multiple levels with mezzanines. If you have sufficient height at your disposal, you can use mezzanines to expand your floor space enormously.
Expanding your storage capacity
Magista's mezzanines have an impressive load-bearing capacity. So they are an ideal way to increase the surface area of your warehouse. Is your warehouse space high enough? Then you can combine a mezzanine with the shelf units of the MG system, for example. That way, you can quickly double (or even triple) your storage capacity.
Why Magista?
At Magista, we manufacture our products to order, so we have no stock in hand. That means that we can always produce your mezzanine in exactly the dimensions that suit your business location. In other words: customisation is standard. Do you have any special wishes, or do you want to combine the mezzanine installation with the design of new storage solutions, such as warehouse shelving systems or system cabinets? That – and more – is all possible at Magista. Contact your Magista distributor or make an appointment with our account manager for more information. We look forward to telling you all about what we can do for your company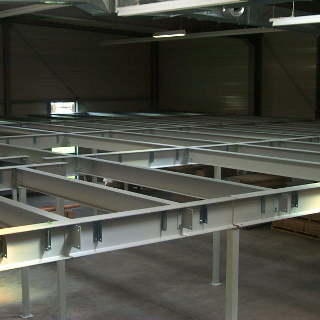 Hallmark – ISO and EU

We aim for a high level of operational management, production and quality control. The safety conditions in our production factories have been thoroughly inspected and comply with all the relevant European guidelines and directives. Where applicable, all of our products have the well-known European CE marking for overall safety. And last but not least, our quality control procedure is certified according to the international ISO 9001 standards. Every year, our ISO certification is reconfirmed by an independent controlling body. All in all, these standards and certificates assure you that Magista's products and services meet the highest standards.

Hallmark – Products

All of Magista's cabinets, shelving systems and all other products comply with various hallmarks in the Netherlands and Germany. Those hallmarks officially confirm the quality, safety and sustainability of the Magista products. To obtain these hallmarks, the products must pass a number of tests. During these tests, which are implemented by independent inspection bodies, it is checked whether the products comply with the applicable requirements related to bearing capacity, safety, finishing and many other aspects. Magista itself also continuously tests its own products. For example, we subject all our storage systems for museums and depositories to the so-called ODDY-test.
Accessoires