When configuring an archive, you need to take the following aspects into account. Which types of products and/or materials do you want to store? For how long? Is the intended space suitable for your archive? What are the climatological and fire safety requirements? Which health and safety regulations apply? Magista's static system cabinets are the ideal solution for most archives.
Archiving with Image-Line from Magista
Magista's Image-Line system has everything you need to create your archive. These beautifully designed system cabinets can be installed as independent units or can be linked to each other. This makes it possible to create cabinets made up of multiple sections.
The Image-Line system cabinets are manufactured with materials that comply with the requirements in the Public Records Act. So you don't have to worry about emissions of harmful substances.
Sturdy, flexible, stylish
Magista has been producing storage systems for archives for many years. We use the knowledge that we have gained over the years to improve our products. But also to advise you about the best way to design your archive.
Magista's system cabinets are strong and beautifully finished. Has your archive become too small? You can very easily expand the length or width (double-sided cabinets) of your archive any time you wish.
These cabinets are practical and easy to use. But this multifunctional system is also beautifully designed.
Choice of interiors
When designing your cabinets, you can choose from a wide range of cabinet interiors, such as pull-out frames, drawers and suspension file profiles. These interiors can be fitted in every cabinet type.
More information
Would you like to find out more about Magista's archive solutions? Contact your distributor or visit our showroom in Nijverdal. Would you like to see our cabinets in operation? Then make an appointment with our account manager for a guided tour in the archives of one of our customers.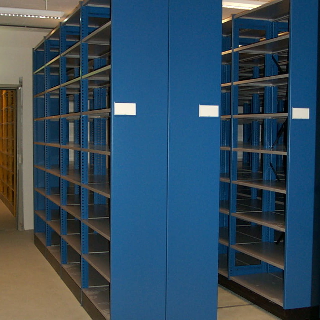 Hallmark – ISO and EU

We aim for a high level of operational management, production and quality control. The safety conditions in our production factories have been thoroughly inspected and comply with all the relevant European guidelines and directives. Where applicable, all of our products have the well-known European CE marking for overall safety. And last but not least, our quality control procedure is certified according to the international ISO 9001 standards. Every year, our ISO certification is reconfirmed by an independent controlling body. All in all, these standards and certificates assure you that Magista's products and services meet the highest standards.

Hallmark – Products

All of Magista's cabinets, shelving systems and all other products comply with various hallmarks in the Netherlands and Germany. Those hallmarks officially confirm the quality, safety and sustainability of the Magista products. To obtain these hallmarks, the products must pass a number of tests. During these tests, which are implemented by independent inspection bodies, it is checked whether the products comply with the applicable requirements related to bearing capacity, safety, finishing and many other aspects. Magista itself also continuously tests its own products. For example, we subject all our storage systems for museums and depositories to the so-called ODDY-test.
Accessoires