Since the start of the digital revolution, people have been talking about The Paperless Office. But there is still plenty of paper everywhere in the office environment. Often in large amounts. And where paper is produced, you need good storage solutions.
But paper is not the only thing that is stored in an office. Office materials, computers and other hardware also require storage space.
Image-Line Cabinet system
Magista's new Image-Line Cabinet system was specially developed for office use. This stylish storage system is flexible and multifunctional. Every cabinet can be designed to meet your specific requirements.
With Image-Line, you start by choosing one of the many possible design options. The shelves, rear walls and side panels of the cabinets can be supplied in every possible RAL colour. If you wish, the end panels can be printed with an image or a pattern – for example, a wood pattern.
The Image-Line Cabinet system also offers a wide range of options when it comes to cabinet interiors. Pull-out frames, drawers and suspension file profiles can be added, if required.
Combining and expanding
Magista's static office cabinets give you many opportunities to increase your storage capacity. For example, you can easily add new sections longitudinally or at the back of the Image-Line cabinets. Another option is the double-sided use of cabinets. A double-sided cabinet section can also be used as a partition between workspaces, for example. A double-sided system can be accessed from both sides.
Custom-designed storage? Magista can satisfy all your storage needs
Magista's Image-Line Cabinet system is wide-ranging and flexible. Do you have additional requirements that cannot be met with the standard Image-Line elements? Then why not talk to one of our storage advisors? It is almost always possible to create a customised solution that meets all your office storage requirements.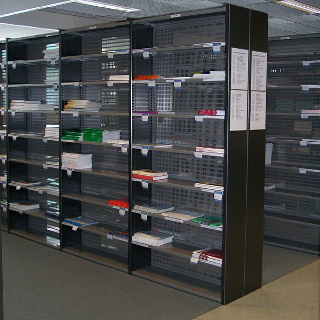 Hallmark – ISO and EU

We aim for a high level of operational management, production and quality control. The safety conditions in our production factories have been thoroughly inspected and comply with all the relevant European guidelines and directives. Where applicable, all of our products have the well-known European CE marking for overall safety. And last but not least, our quality control procedure is certified according to the international ISO 9001 standards. Every year, our ISO certification is reconfirmed by an independent controlling body. All in all, these standards and certificates assure you that Magista's products and services meet the highest standards.

Hallmark – Products

All of Magista's cabinets, shelving systems and all other products comply with various hallmarks in the Netherlands and Germany. Those hallmarks officially confirm the quality, safety and sustainability of the Magista products. To obtain these hallmarks, the products must pass a number of tests. During these tests, which are implemented by independent inspection bodies, it is checked whether the products comply with the applicable requirements related to bearing capacity, safety, finishing and many other aspects. Magista itself also continuously tests its own products. For example, we subject all our storage systems for museums and depositories to the so-called ODDY-test.
Accessoires